By Teresa Mask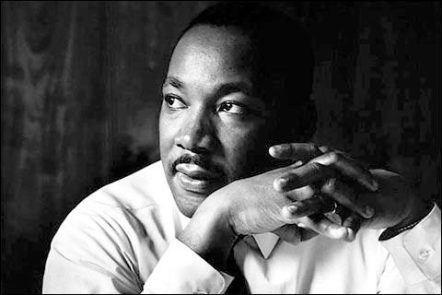 Monday is a national holiday in honor of Martin Luther King Jr.'s birthday. King left his mark during his lifetime as a civil rights activist, including a couple stops in the Detroit area.
Martin Luther King Jr.
5 ways King is tied to Michigan:
1. Original Dream Speech – King first delivered the "I have a Dream" speech to a crowd of 150,000 at Cobo Hall in Detroit—two months before the famous rendition during the March on Washington in 1963.
2. Historical Recording – The original version of the "Dream" speech was recorded by Gordy Records, a subsidiary of Motown Records in Detroit.
3. Rosa Parks Bus – When she refused to give up her seat to a white person on a public bus in 1955, Rosa Parks, a tired black seamstress, sparked the civil rights movement that King led. That bus remains one of the most visited exhibits in Dearborn's Henry Ford Museum and Greenfield Village.
4. Visit to Grosse Pointe – In 1968, King gave a speech to a crowd of 2,700 at what is now Grosse Pointe South High School, according to the Grosse Pointe Historical Society. He was assassinated three weeks later.

5. MLK Symposium – Monday will mark the 27th annual MLK symposium at the University of Michigan. Each year the university focuses on a topic related to King in an effort to "remember the work and legacy of Dr. King." This year's theme is 50 Years Later (R) Evolution of the Dream.
Dr. Martin Luther King's 1968 Speech at Grosse Pointe High School
Grosse Pointe has a special, but little known connection to Dr. Martin Luther King Jr.
The Nobel-prize winning activist gave a speech at Grosse Pointe High School (now Grosse Pointe South) on March 14, 1968, three weeks before he was assassinated. His speech, entitled "The Other America," was delivered in the school gym to a capacity crowd of 2,700, according to a Grosse Pointe News article. Some 200 picketers from the right-wing organization, Breakthrough, demonstrated in front of the building, but the evening proceeded without incident. Dr. King was invited to speak by the Grosse Pointe Human Relations Council, a group of concerned citizens who worked for things like fair housing.
This on-line exhibit includes a copy of the speech along with pictures of Dr. King's appearance, as well as comments from members of Breakthrough and the Human Relations Council.
This situation was so volatile, according to accounts in the Society's files, the Grosse Pointe Farms Police Chief actually sat on King's lap in the car ride to the high school in order to protect him.
Anyone who remembers attending the speech is invited to e-mail your comments or photos to the society at info@gphistorical.org
Further Reading: "Up north: Martin Luther King, Jr., in Grosse Pointe," by historian, filmmaker and freelance writer, Paul Lee. The Michigan Citizen, January 18 – January 24, 2004. Note: Copy of the FBI report on Dr. King's appearance courtesy of Paul Lee.
Shared by Grosse Pointe Music Academy
Offering music instruction for all ages in Canton and Grosse Pointe Woods.