Virtual Music Lessons Available At Grosse Pointe Music Academy!
Online Music Lessons
Virtual Music Lessons Available At Grosse Pointe Music Academy!
Grosse Pointe Music Academy is proud to continue offering virtual music lessons to students who find online learning convenient and accessible. While the COVID-19 pandemic necessitated the transition to online lessons, we have continued to provide this option alongside in-person lessons to cater to the diverse needs and preferences of our students.

With a reliable internet connection, virtual music lessons can be a viable and effective way to learn and grow as a musician. The convenience of learning from anywhere, coupled with the time and cost savings on transportation, makes online lessons an attractive choice for many students.
At Grosse Pointe Music Academy, we utilize Zoom for our private online music lessons, ensuring a secure and user-friendly platform for students to engage with their instructors. Despite the distance, our talented teachers are dedicated to providing an immersive and engaging learning experience.
While we acknowledge the unique benefits of in-person lessons, such as playing music together and receiving hands-on guidance, we also understand the value of virtual music lessons. Our online lessons are thoughtfully designed to recreate a studio environment, simulating a real-life music room and fostering a sense of connection between student and instructor.
We believe in the importance of offering both in-person and virtual music lessons to meet the diverse needs of our students. Whether you prefer the convenience of online lessons or the personal touch of in-person instruction, Grosse Pointe Music Academy is committed to helping you reach your musical goals.
Experience the convenience and flexibility of online music lessons for yourself – try Grosse Pointe Music Academy's virtual lessons today and let us guide you on your musical journey.
Book an Online Music Lesson Now!
If you are using a laptop then visit Zoom.us and download the software.
If you're looking for another available time or have more questions, please call us at 313.458.7723.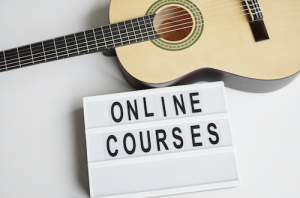 Grosse Pointe Music Academy also offers: