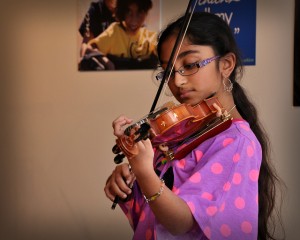 Violin, Fiddle, Viola Cello and Double Bass Lessons
The first step any student music take before learning strings is to choose and instrument and make sure it's the correct size! Our strings program offers private instruction in violin, viola or cello. Our private violin lessons start as young as age 5. Due to the size of the instrument, most cello
lessons start at 10 years of age or older. We have students of all ages from children to adults. For younger children we highly encourage a parent to sit in on the lesson to help the student at home with things such as posture and hand positioning.
Violins are sized by the following measurements: 4/4, 7/8, 3/4, 1/2, 1/4, 1/8, 1/10, and 1/16th. The 4/4 or full size violin is generally used by students aged 11 and up through adult. Click http://www.fiddleheads.ca/shop/violin-sizes-viola-and-violin-size-chart.htm for a complete sizing chart for violin and viola.
What is a fiddle? Fiddles are usually violins used to play folk music. Violas and cellos can also be referred to as fiddle music when playing certain types of music.
Violas are a little bigger version of the violin and are sized by the following measurements: 12″, 13″, 14″, 15.5″, 16.5″. The 12″ viola is very close in size to the 1/2 size violin and therefore students are usually older starting out on viola. See complete information on viola sizing at the above link.
Cellos are typically either 4/4, 3/4, 1/2, or 1/4 size. Most adults play the 4/4 size cello although there are 7/8 sized cellos available for smaller adults who have difficulty with the full size instrument. See detailed information on sizing for cello here: http://musicshowcaseonline.com/cello_sizing.asp.
Double basses, like cello commonly come in 4/4, 3/4, 1/2, and 1/4 size. There are also 7/8 sizes available. Unlike the other stringed instruments, it is most common for adult students to play a 3/4 sized bass. Visit https://www.gollihurmusic.com/faq/2-SIZES_DOUBLE_BASS_SIZING_FAQ.html for complete information on sizing for double bass.
Renting instruments is very popular with strings with young students because they rapidly change size. Contact us today about rental options!