Jazz Cafe Open Mic
Want to share your musical talent and gain exposure?  This event gives local musicians and performers an opportunity to perform in front of a live audience and band.
DETEVENTS PRESENTS:
SPOTLIGHT
The Quarterly Series
Wednesday, June 11th, 2014
Spotlight is a Quarterly open mic night event for all ages held at the Detroit Music Hall's Jazz Cafe. The first event in this series will be Wednesday, June 11th.  The doors will open at 7pm.  The show starts at 7:30 and will end at 9:00-9:30pm.  Performers that are interested in playing should send an email to: detevents@outlook.com.  Each performer will get 4-5 minutes maximum.  All styles of music are welcome so sign up now before all spaces are full!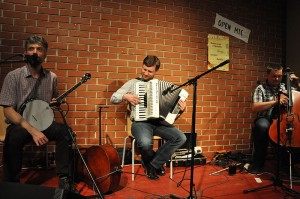 The Element led by Darell Red Campbell will be there as an accompaniment band!
The Jazz Cafe has a full bar and serves food.
There is a $7 admission fee for all non-performing guests.
Local Comedian,  will also be there to host the show.
Invite your family and your friends and come out to the Jazz Cafe at Detroit Music Hall to showcase your talents!