Let your child explore music!
Limited space is available. Sign up today!

Music Together Big Kids® is a 60-minute class geared to the interests and abilities of 5-, 6-, and 7-year-olds. The program blends the elements of Music Together that parents and children love with new activities, skills, and challenges that are developmentally appropriate for this age group.  Read More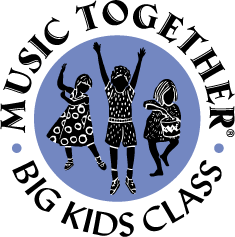 More Information on Big Kids Classes
• Classes are 60 minutes long and meet weekly for ten weeks.
• Every family enrolled in class receives a Music Together Big Kids edition songbook, CD, and weekly HomePlay activity pages so that the entire family can continue the fun and learning at home and you can stay connected with what your child is learning in class.
• Younger children are not developmentally ready for the structure of a Big Kids class. To be eligible, your child must have turned 5 by the first day of class.
• While this can be a "drop-off" class, you (or another caregiver) should plan to attend the first and last class of the semester. You may attend any and all classes if you wish. However, due to the structure of the Big Kids class, we cannot accommodate younger siblings (except for babies younger than eight months). You and any younger siblings are welcome and encouraged to join the last 10 minutes of every class.
• A Parent DVD Guide for new families: "Music Together at Home: Helping Your Child Grow Musically"
Emily Schienke, Registered Music Together Teacher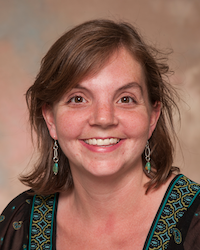 Emily Schienke was a music therapy major and has a BMT from Eastern Michigan University where her major instrument was voice. Read More