Hummingbirds Music Together to Celebrate United Nations'
International Day of Peace
Saturday, September 21
Peace Day Sing Along to take place at the Grosse Pointe Public Library – Woods Branch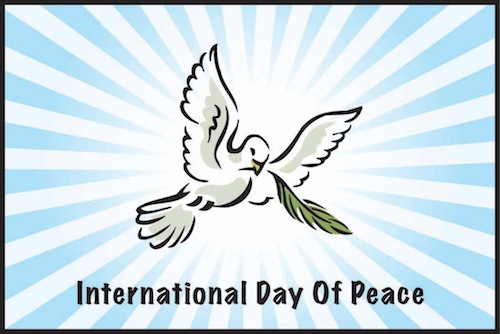 Music Together, the leading international early childhood music education program, will commemorate the United Nations International Day of Peace (September 21) with family music events around the world at many of its 2000 locations in 40 countries. Our special local event  will be with Hummingbirds Music Together at the Grosse Pointe Public Library Woods Branch, on Saturday, September 21, 2013 at 10:00 a.m., which will be a Peace Day Sing Along.
A centerpiece for this local celebration is the singing of "May All Children," written by Music Together Founder/Director Kenneth K. Guilmartin, in honor of UNICEF's fortieth anniversary in the 1980s (www.musictogether.com/MayAllChildren). The song is a simple wish for peace and, since its composition, has been sung millions of times throughout the world in Music Together classes and by community and school choruses as part of the company's work to support UNICEF. Thousands of children and families from around the world will sing "May All Children" at Music Together events on September 21.
According to Sarah Boyd, Director of Hummingbirds Music Together, "Our Peace Day event here in Grosse Pointe will be a joyful and memorable celebration. We hope many families join us for what promises to be an incredible day! We will be joined by special guests, the Detroit Children's Choir, who will perform the Music Together song, "May All Children". Families will sing songs from around the world and make a rainstick instrument."
Created by a United Nations resolution in 1981, the International Day of Peace is observed around the world on September 21. It is a day devoted to strengthening the ideals of peace, both within and among all nations and peoples.
In addition to this local event and simultaneous celebrations around the world, Music Together has created a special singalong storybook for "May All Children." (Visit store.musictogether.com/Singalong-Storybooks.php.) In honor of the International Day of Peace, Music Together will donate proceeds to UNICEF from "May All Children" book sales and song downloads that take place during the weekend of September 20. Books will be available for purchase at the Peace Day Sing Along next weekend.
Music Together® is an internationally recognized early childhood music and movement program for children birth through age seven. The Music Together curriculum, coauthored in 1987 by Kenneth K. Guilmartin (Founder/Director) and Rowan University Professor of Music Education Dr. Lili M. Levinowitz (Director of Research), is based on the recognition that all children are musical: all children can learn to sing in tune, keep a beat, and participate with confidence in the music of our culture, provided that their early environment supports such learning. Music Together offers programs for families; schools; at-risk populations; and children with special needs, in over 2000 communities in 40 countries around the world. The company is passionately committed to bringing children and their caregivers closer through shared music-making and helping people discover the joy and educational value of early music experiences. More at www.MusicTogether.com and on Facebook, www.Facebook.com/MusicTogether.