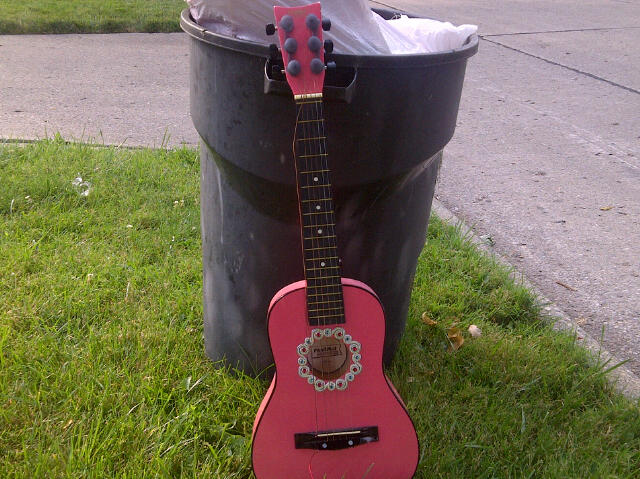 Shortly after I blogged about how inexpensive short-scale guitars are rare, I found this pink guitar in Harper Woods on trash day.  It's an inexpensive First Act child's guitar, but after a thorough inspection I realized that the only thing wrong with it is that the low E string is broken; the action and intonation on this guitar are surprisingly good.  I'm certain that this guitar will not stand the test of time because of it's cheap construction, but as it stands this guitar would give a beginning player a good chance to learn on something with a nice sound for a very low price.  I'm not going to go as far as to give this guitar model my endorsement, because while there are a few that come out sounding good, most of them are not so lucky.  Most of the time these guitars have strings that are too far from the neck, effectively making them unplayable for the beginning guitar player.
If a string is broken on your guitar, don't immediately throw it in the trash;  You may be able to have it fixed!  Bring it in to the Guitar Union Music Shop (located inside Grosse Pointe Music Academy) and we will evaluate any non-electrical problems for free.  After you receive a quote you can decide if you want to have the work done on your guitar, or decide against it at no cost to you.  Restringing guitars is an essential part of standard guitar maintainance, even thought there are obviously some who believe that when a string is broken the guitar is useless.  New strings give the guitar a fresh and bright sound, since the tone mellows out gradually as you continue to play them.  If you make a good habit of washing your hands every time before you play your guitar, the strings will certainly last longer.  Dirty hands will render your strings lifeless a lot more quickly than clean ones.
So don't smash or trash that guitar just yet.  Let us help you decide whether or not it has any value.  Dave Bolla is the guitar luthier and instrument technician at Guitar Union and can help you get any of your stringed instrument problems fixed quick!
Henry Bahrou
School Director
Grosse Pointe Music Academy