Music in Schools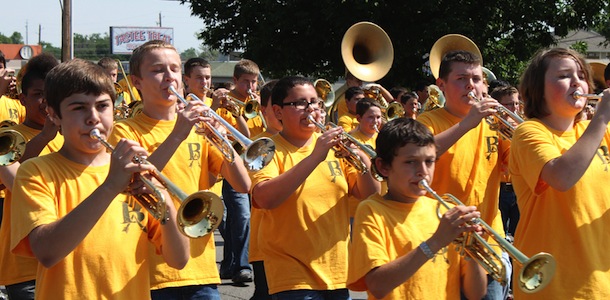 Rennay Moore, Contributor
I publicly commend the efforts of the First Global team for their bold Perfect Pitch for a Sound Education initiative, which has already had much success. First Global has brought to reality the dream I have been lobbying for – the in-depth integration of music in schools. Quite frankly, a school without music is as radiant as a graveyard, and the sooner we value the role of music in education, the more rapidly we will see growth and development among our students. I guarantee you, as one who facilitates children's learning, that there will be fewer fights, a decline in maladaptive behaviour, and a greater sense of worth among students who learn to play instruments and who learn to create as well as appreciate different forms of musical instruments. Music is all around us; our students have a natural inclination to gravitate towards music. They beat the desks, they clap their hands. Like the hills, they too come alive with the sound of music.
Every child can learn, every child must learn, but learn what, and under what conditions? I say enough with the philosophical clichés and forward with practical actions. We want music!
jump on the train
I throw out the challenge to our private and public sectors to feel the music, smell the coffee and jump on the train.
I don't believe music in schools is given the attention it deserves and some people tend not to understand how significant it is to the development of our children. A number of students have short attention spans but because playing of a musical instrument requires focus and discipline, it can help to improve their ability to focus, as their brains will be engaged throughout the process and their creativity will be challenged.With music, we will have them right where we want them as it provides the perfect opportunity to reach out to them. When we take this approach we are better able to channel their energies in a positive way and therefore guide and educate them in becoming future musicians, who can make a positive impact on society. Much of what I remember from school days has a musical connection. Take for example, nursery rhymes, I can recite all I was taught mainly because of the musical elements as well as the joy I felt learning with music.
music aids with memorising
In high school, my friends and I used acronyms to remember key concepts and sang the content to remember. So I can testify that music aids with memorising and the ability to recall – deficits a number of students unfortunately have.
First Global, whatever inspired you to partner with the Ministry of Education to provide those ten schools with instruments and on top of that, train the teachers, I'm glad you had the vision. It's unfortunate to be born without sight, but to have sight and no vision is even more unfortunate. I want corporate Jamaica to follow and embrace this vision, and with the success experienced in the programme I suggest that the minister of education makes it mandatory for all schools; from kindergarten to tertiary to incorporate music in the curriculum.
A music teacher once told me of the remarkable success he had with some students who benefited from having music lessons at least twice per week. Can you imagine the sense of accomplishment those students feel being part of a choir, going solo or even being able to play a note?
Tessanne Chin's success is more than enough indication of the musical talents we can unearth and hone. Music is the food of love, so what good would we be doing if we fail to play on?
Email feedback to columns@gleanerjm.com
shared by Grosse Pointe Music Academy