Hummingbirds Music Together Offers New
Music Literacy Program for 5, 6, & 7 Year Olds
IN the Grosse pointes and surrounding areas
GROSSE POINTE, MI, August 28th, 2013 – Hummingbirds Music Together, available through the Grosse Pointe Music Academy, will now offer Music Together Big Kids®, a specialized music and movement program especially developed for 5–7 year-old children, to families in the Grosse Pointes and the surrounding areas. Big Kids classes lay the foundation for basic music literacy, complementing music instruction in school or instrument lessons, and leading to a lifetime of joyful music-making.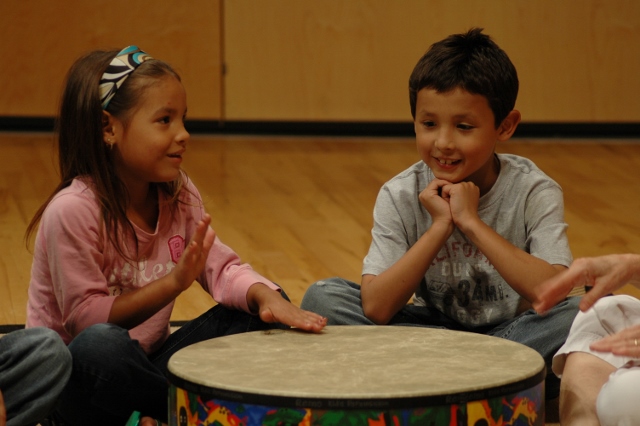 Music Literacy
"The Big Kids program is the next step in musical learning for 5, 6, and 7 year olds that are in-between music enrichment classes and formal music instruction," said Sarah Boyd, director of Hummingbirds Music Together. "Kids at this age are ready to move from playing with music to understanding the fundamentals of music and the Big Kids program bridges the gap to help them in their musical journey."
Hummingbirds Music Together teachers will incorporate more advanced music curriculum including solfège, solos and ensembles, folk dances, harmony singing, vocal development, and drumming. Students will also have the opportunity to experiment with new activities like conducting and improvisation, story songs, and game songs.
As part of tuition, each family receives a Big Kids songbook, CD, solfège cards, and HomePlay activities, so that the entire family can continue the fun and learning at home and parents can stay connected with what their child is learning in class. Parent attendance is welcome but not required.
Hummingbirds Music Together is hosting a free demo class for interested families Thursday, September 12 from 4:30 – 5:30 pm. Please call 313-458-7723 to reserve a spot as space is limited.
The Fall 2013 Big Kids class will run for 10 weeks on Thursdays from 4:30 – 5:30 pm starting September 19 and running through December 15, with no class October 31. To learn more and to register for Fall classes with Hummingbirds Music Together, please visit www.hummingbirdsmt.com.
About Hummingbirds Music Together
Since 2010, Hummingbirds Music Together has offered Music Together® programs for families with young children through the Grosse Pointe Music Academy in Grosse Pointe Woods and in Canton. Music Together is an internationally recognized early childhood music program for babies, toddlers, preschoolers, kindergarteners, and the adults who love them.  For more information, please visit www.hummingbirdsmt.com.