Music Together March 2014
Sing! Sing! Singin' Every Day!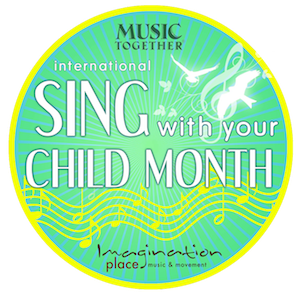 Did you know March is "Sing with Your Child" Month? It is, and we have a fun challenge for all of our Hummingbirds Music Together families – can you sing at least once with your children every day in March? Let's set the goal together and share the fun ways we are adding more song into our everyday lives on our Facebook page and in class. Also, check out Music Together's weekly musical giveaways online here for answering trivia questions and sharing your family music-making. We can't wait for March to get started!
Grosse Pointe Make Up Classes
There were a number of classes canceled this semester due to snow, President's Day, and teacher illness. Please note the following classes – Monday 9:30 am, 10:30 am and 5:30 pm, Tuesday 11:00 am, Friday 9:30 am and 10:30 am, and Saturday 10:00 am and 11:00 am – will have their final class at the regular day and time the week of March 24.
 Upcoming Events:
Now – February 28: Spring semester pre-registration is open now through Friday, February 28. Sign up before March 1 to receive $10 off spring tuition.  Spring Semester starts Monday, March 31 and runs through the week of June 16. There is no class the week of April 21.
Saturday, March 1, 4:00 – 5:00 pm: Hummingbirds Music Together will host a Teddy Bear Picnic at both the Grosse Pointe and Canton locations. We will all come together for a musical picnic, changing the words of some of our favorite songs to be about Teddy Bears. Bring your child's favorite teddy bear of special friend to share in this fun afternoon. If you would like to stay after the picnic to learn more about how music helps with children's development, there will be a coloring activity while parents talk with an instructor. RSVP: Please reply to this email if you plan to attend.
Week of March 17: This is the last week of winter semester. We hope everyone has enjoyed the Sticks collection!
Wednesday, March 19, 10:00 – 10:45 am: In honor of March being "Sing with Your Child" Month, Hummingbirds Music Together is visiting the Canton Public Library for a morning of singing, shaking, and waving scarves in Music Together fashion and hope you can join us and bring friends to fill the library with song!
Thursday, March 27, 10:00 – 10:45 am: In honor of "Sing with Your Child" Month, please let East-side friends that are not currently enrolled with Hummingbirds Music Together know that we are hosting a free new student demo with a special transportation-themed music class. Children should bring their favorite car, truck, or train to sing and ride along with "The Train Song and zoom along in "Goin' to Boston." Please spread the word to friends you know will also love our program!
Monday, March 31 – Our Spring semester starts in which we will learn and enjoy Music Together's "Maracas" collection.
Doo De Da Deeee…..
Have you ever wondered why there are songs in each collection without words? Songs without words that use vocables ("doo" or "bum da bum," for example) instead of lyrics, allow children to focus on the melody without also having to process language. Even when singing songs WITH words, you might want to sing an extra verse or two on syllables. This model may help children with less developed speech sing more freely.
Hummingbirds Music Together is 100 Families Strong!
Hummingbirds Music Together is excited to share that as of this current winter semester, our program has over 100 families enrolled. This is an exciting milestone for our program and we thank each of our families for choosing Hummingbirds Music Together to help share the joy and benefits of music education.
As we wait for the first signs of spring to appear outside, we are so thankful for the beautiful voices we hear and smiles we see in every class that warm our hearts.
Looking forward to a sing-song-filled March,
-Miss Sarah, Miss Emily & Miss Hazima