Music Together Spring 2014
Shake Shake Shake – It's Maracas Time!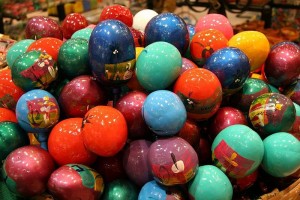 We are going to wake up Spring and all of the flowers and animals with our Spring "Maracas" collection! We are especially excited to jive together with everyone to one of our all-time favorite Music Together songs "All Around the Kitchen!" It's a jazzy tune we know everyone will love! Listen to the song and see a trailer for the storybook online here.
 Happy Birthday Parties!!
Did you know Hummingbirds Music Together is available to help make birthday parties extra special and fun? We work with you to create a special musical celebration including your child's favorite songs and activities from class. We can also provide ideas for musical party ideas, favors and more to make your child's celebration as special as can be! Call us or ask us in class to learn more about party options at our location or a nearby location and to secure your child's special day!
 Upcoming Events and Important Reminders:
 Week of April 21st: There are no classes this week.
Week of June 16 – 21: Last official week of Spring semester.
Sing and Sign in the Summer!
Every Fourth Friday in June, July, & August, 10:00 – 11:00 am: Join us for Sing & Sign this summer at the Rotary Tot Lot in Grosse Pointe. This fun interactive event incorporates singing, sign language, rhythm and movement and afterwards the kiddos can also enjoy making a craft.  The Rotary Tot Lot is located at the corner of St. Clair and Waterloo in the City of Grosse Pointe.
Our Biggest Hummingbirds Music Together Sing-along Yet! 
In March we hosted our biggest group of 130 kiddos, parents, grandparents, and caregivers at the Canton Public Library. It was a jammed packed hour of smiles, shakes and of course singing! It was amazing to meet so many new friends and share our love of music and movement. We will be visiting the Canton Public Library throughout the summer and hope you can make it with friends and family for a fun morning!
"Like" Hummingbirds Music Together on Facebook & Follow Us on Twitter
In addition to all our weekly fun in class, follow Hummingbirds Music Together for musical activities at home, local events and giveaway contests. At the end of March we held a Facebook Ukulele giveaway and four lucky winners were randomly selected and announced April 1. Congratulations to our winners! "Like" Hummingbirds Music Together on Facebook and select to "Receive Notifications" to see all of our updates. If you also use Twitter, follow us at @hummingbirdsmt.
Hey, hey, what do you say – let's all have fun shaking our maracas this semester!
-Miss Sarah, Miss Emily & Miss Hazima