Get ready for a musical adventure like no other! The Hummingbirds Music Together Spring Semester 2023 is almost here and we can't wait to share our love of music with you and your little ones. Our winter semester was a smashing success and sold out in record time, so don't wait to secure your spot in our early childhood music program.
Starting on April 10th, our talented teachers will guide you and your child through a fun and engaging music curriculum designed to inspire and delight. With interactive activities and sing-alongs, your child will develop a love of music and learn valuable skills that will last a lifetime.
Our classes are open to babies, toddlers, and preschoolers, and we welcome children of all abilities. You'll love bonding with your child through music and watching their confidence grow as they develop their musical abilities.
Enrollment is now open, and spots are filling up fast. Don't miss out on this amazing opportunity to create lifelong memories and a love of music for your child. Sign up today for the Hummingbirds Music Together Spring Semester 2023!

Join us for the Maracas Song Collection this Spring!
Your children will love the energy of this collection! New songs include the enchantingly rhythmic "Al citrón," based on a traditional Latin American children's game, and "Bout My Friends," sure to have everyone dancing to its funky blues. In addition to your weekly classes, tuition includes materials for you to use at home, access to the online Family Music Zone and Hello Everybody app, and a family newsletter full of resources and music-making ideas!
About the Illustrators: Read more about Jaime Kim on her website: https://www.jaimekim.com See more of Gerald Kelley's work on his website: https://www.geraldkelley.com
OUTDOOR CLASSES
Swim along with the Sea Turtle Collection!
Sea Turtle draws inspiration from Malaysia, Lebanon, and other regions of the world, with drumming patterns adapted from Turkish rhythms used for dancing. Three NEW songs are included this semester! The sea turtle's ability to swim as far as 10,000 nautical miles–yet always return home–inspired "Turtle Back Home." "Wau Bulan," a Malaysian folk song, describes the beauty of the Malaysian traditional kite (wau), with a rounded bottom shaped like a half moon (bulan), as it flies up high in the sky. "Ala Dal'Ona" is a well-known traditional Lebanese dabke, a style of dance typical in Levant countries such as Jordan, Syria, and Lebanon. Children will delight in imaginative play, drumming, and dancing with this rich, eclectic collection of songs and chants. Tuition includes our Sea Turtle Collection recording, songbook, and access to drumming videos with Rhythm Kids creator Tom Foote.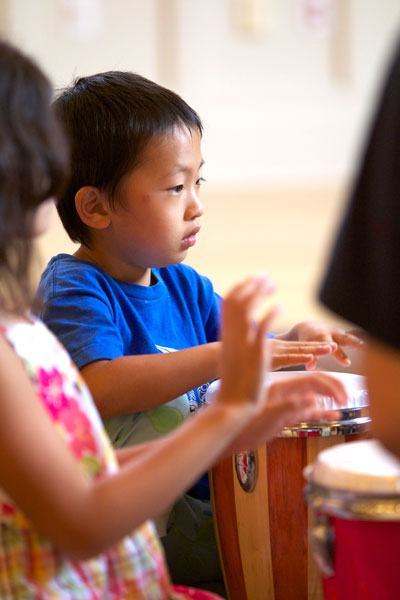 RHYTHM KIDS
GrossePointeMusicAcademy.com Main Music Together Registration Page