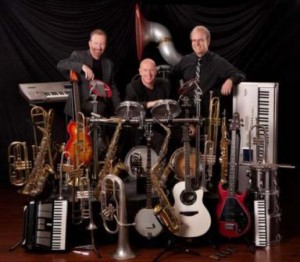 Gags, gusto and far more than simple guitar riffs mark New Odyssey's unique stage show.
Three guys wield 30 instruments and combine their individual virtuosity to form a raucous production featuring comedy, skits and audience participation.
"Once it gets going, they start putting on costumes and getting people onstage," said Sandy Harmon, general manager of Haworth Inn.
Gary Todd, Michael Jay and Gary Polkow — the men behind New Odyssey — are a power-packed team with eclectic backgrounds ranging in areas like musical theater, acrobatic tumbling and even synthesizer production. And, according to Harmon, they're three of the nicest men you would ever want to meet.
Tubas, banjos and drums are just a few of the instruments the trio wields.
"They play a lot of oldies that people know, and it's family friendly and very energetic," Harmon said.
The comedic stunts take their performances far beyond the basics of a traditional concert, and the music-oriented skits add a dose of zaniness.
"There is one [act] where one of the men dresses up as Elvis, and one time he came out dressed a woman," Harmon said.
Audience members can join in on the antics and get a chance to perform along with the music, honking horns or donning silly costumes.
"They'll pick people out of the crowd to be a character in one of their skits," Harmon said. "Maybe they'll have someone blow the horn at a certain time."
Highly popular at the Haworth Inn, the group is back for the fourth year in a row offering up a night of performance and dinner to boot. The night begins with a hearty meal for omnivores and vegetarians alike.
"We pride ourselves on making things in Holland like real mashed potatoes, fresh vegetables," Harmon said. "People always say, 'Oh, you feed us too much food!'"
Table seating allows groups to sit together and enjoy the two-hour show following dinner.
"Most of the people who attend have followed New Odyssey," Harmon said.
While many locals come out, its fan base travels to catch the show.
"What really impresses me is no matter who goes into the show — young, old, single, whatever — they just come out and rave about it," Harmon said. "It's such a good time and it's nice family fun."
Tickets are available at the door if the show does not sell out and can also be purchased through Tulip Time.
Grosse Pointe War Memorial 32 Lake Shore Rd Grosse Point Farms MI
Grounds open 6 p.m., concert begins 7:30 p.m. $8 per person. Child 10 & under is free with a paying adult. Their website is www.warmemorial.org
Contact Wanda Kosowicz 313-881-7511 ext 103
Posted by Grosse Pointe Music Academy Staff
Serving the Grosse Pointe Communities and Surrounding Metro Detroit Areas