We are thrilled to announce an exciting evening of New Sounds featuring the talented Marina Stojanovska on piano, and Colin Payne and Natasha Stojanovska as composers. The event will take place on Friday, May 2nd at 7 PM, at the Grosse Pointe Woods Presbyterian Church, located at 19950 Mack Ave, Grosse Pointe Woods, MI 48236.
Join us for an unforgettable performance that showcases the brilliance and creativity of these talented artists. Natasha Stojanovska will be performing on piano, accompanied by Sonia Lee on violin, Garret Klauss on saxophone, Claudia Montoya on flute, and Christian Sands on cello. The ensemble will perform a range of contemporary pieces that are sure to leave a lasting impression on all who attend.
General admission tickets are available for $20, with student tickets priced at $15. Tickets can be purchased at the door with cash, card, or check.
Don't miss this chance to experience the fresh and innovative sounds of these outstanding musicians. We hope to see you there!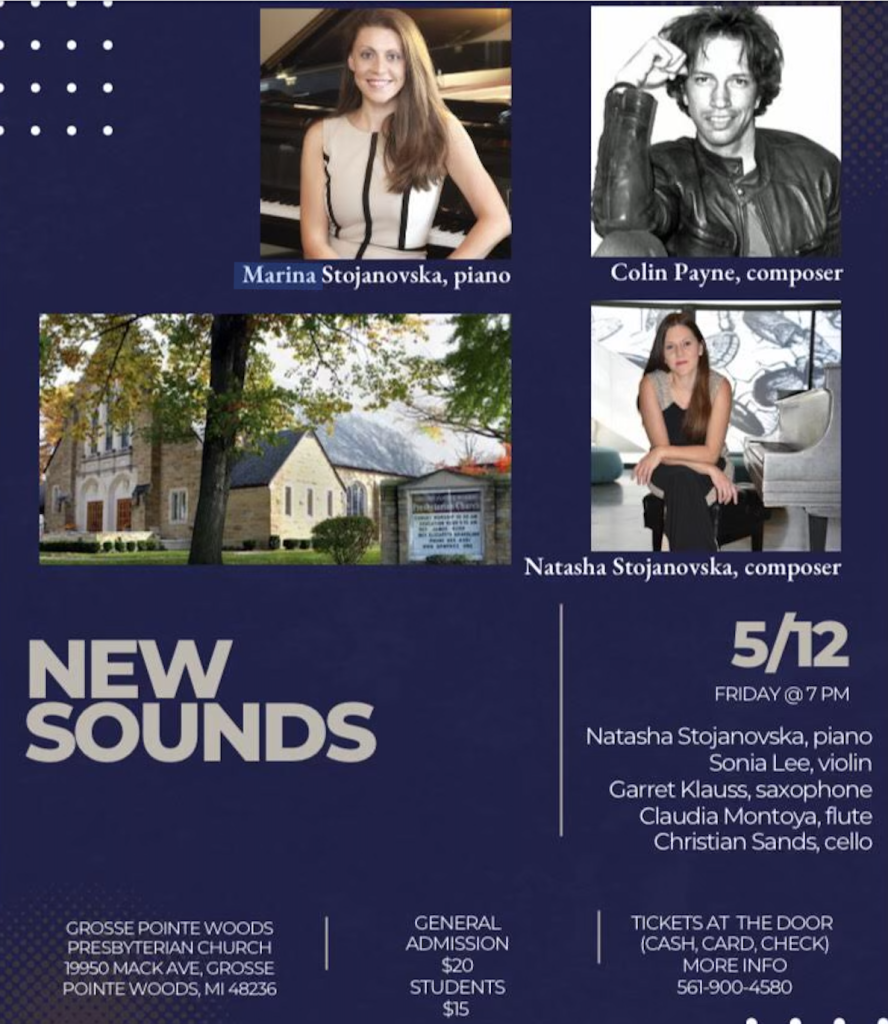 In addition to being a talented pianist and performer, Marina Stojanovska is also a highly respected piano and vocal teacher at Grosse Pointe Music Academy. With years of experience teaching students of all ages and skill levels, Marina is passionate about sharing her love of music with others and helping her students reach their full potential.
Her approach to teaching is centered around creating a supportive and encouraging learning environment that inspires students to develop their skills and explore their musical interests. Whether you are a beginner just starting out or an experienced musician looking to refine your technique, Marina has the expertise and knowledge to help you achieve your goals.
At Grosse Pointe Music Academy, Marina is known for her ability to connect with her students on a personal level and tailor her teaching approach to their individual needs and learning styles. Her dedication to her craft and commitment to excellence make her an invaluable member of the Grosse Pointe Music Academy community.