Music Together January 2014 –
Singing in the New Year!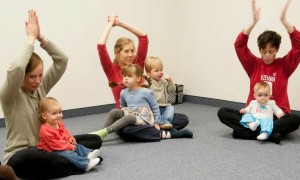 Singing in the New Year!
2014 is here and we hope everyone had a wonderful holiday break! Registration is still open for the Winter Semester which starts the week of January 13 and we hope to see everyone back in class soon! If you have friends that may be interested in joining class with you, please let them know about out free demo classes. Your friend is able to visit class with you during week 1 or week 2 of the semester and sign up after seeing the class in action! Call ahead to schedule a friend visiting with you – available only for classes with openings. Remember we do offer a Refer-A-Friend discount, for our Canton location only,  for both you and your friend when they register.
Winter Sticks Collection
Every semester we love learning new songs together and this Winter we will work with the STICKS Collection – playing follow the leader during Follow me Down to Carlow, counting the Stars while rocking in your arms during Great Big Stars, and thinking up favorite treats from Grandma for Trot to Grandma's House. Tuition this semester includes the song book, two music CDs, a family newsletter full of resources and music-making ideas, and a special Teddy Bear Picnic (which we are planning for March).
Upcoming Events
Wednesday, January 8 at 10:00 am: Before the official start of the Winter Semester, we will kick off 2014 with a free demo of the STICKS song collection at the Canton Public Library. Join us for a fun filled morning singing, shaking, and waving scarves. If you love to visit different libraries, the Canton Library has a wonderful children's section and parents can enjoy coffee from Jungle Java throughout the library while little ones explore the different activity areas.
Monday, January 13: Winter Semester starts, running 10 weeks through the week of March 22. We look forward to sharing music, dance and laughter with each and every one of you!
March TBD – Hummingbirds Music Together will host a Teddy Bear picnic for all enrolled families. We are working on setting the date and location and will be sure to let everyone know so you can save the date in advance.
Using Your Songbooks
The Music Together songbook you receive every semester is an important tool to help make connections for children as they learn about music – and another perfect tool to help add music into snow days! The songbooks are like storybooks with music and pictures that you and your child can look through, talk about, and use to sing songs at home. Look at the different full page pictures in the book and ask your child what they see or go through the book and talk about what musical notes are and the different pictured musical instruments. Children can color in the book while listening to the songs or maybe your child would have fun pretending to be the teacher and lead a class at home. Click here for more ideas for how to use your Music Together songbook to in everyday life.
Winter & Music
Winter seemed to come early this year and most of us are likely spending much more time indoors. Music offers a great escape from the winter blues when little ones get bored and restless or the entire family just needs something to do but no one wants to go outside. Pop in old favorite CDs and show the kids some of your unique dance moves. In the spirit of the STICKS Collection, make your own drum kit out of pats, pans, buckets and bowls using wooden spoons as drumsticks to play along with different songs. Don't be afraid to turn up the volume a little and let your inner rock start out – the kids will love it!
Here's to a wonderful 2014! We wish you the best as you and your families start the new year!
We hope to see you soon in class,
Sarah Boyd, Center Director – Hummingbirds Music Together
Henry Bahrou, School Director – Grosse Pointe Music Academy
Hummingbirds Music Together on Facebook