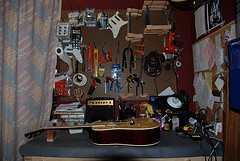 An instrument can be seen as an extension of one's own self to many people. Guitar players are certainly no exception to this. Guitars are more than they appear to many players. The instrument is not only a tool by which a musician can create their music, but also an extension of their own bodies. Many players feel to be "at one" with their instrument when they are "in the zone" during both improvisation and composition. For me, the guitar is a functional sculpture. It is a work of art that is a tool, built and designed to further create art. When I was a student of Roberto-Venn School of Luthiery, I was excited to begin my career of designing and building these sculptures so that my creative passion could be utilized by others to pursue their own musical passions. I would think not only of the playability and the comfort of the instrument, but also would try to create designs that would be creatively inspiring to the musician. This is where the aesthetics of the instrument played a crucial role for me. I wanted to create unique designs that would harness the creative energies of an artist. In essence my desire was not to create a guitar, but rather fabricate a muse that would inspire the very best from the musician. After all, before any of us were professional luthiers or musicians, we were fans of music.
As my career continued, I found myself drifting further away from my original goal. I used to scribble new instrument designs in notebooks on a regular basis. I used to spend hours online searching the internet for the best prices for wood. I felt that after spending a half of a decade repairing instruments, and not building them, my original creative intent had been stifled, but when I really thought about it, that wasn't true. In the repair shop, I had learned a different craft, and I had the unique opportunity to study other craftmen's take on the instrument. I was learning what functions of the guitar worked and what functions didn't (I've had the opportunity to work on a lot of lackluster designs as well as truly ingenious ones). I was able to interact with a volume of players that I would have never been able to if I were simply custom building. I was afforded the opportunity to study other designs, improving upon them, and was still rejuvenating musician's creative passion every time they walked away with an instrument that they claimed "had never sounded better."
So, what now? I have been repairing instruments professionally since 2005 (I graduated from the Fall 2004 class at R-V). At the time I was an idealistic 21 year old. As we march towards December and then the new year of 2012, I think that my New Year's resolution will be to regain my idealism. I feel as though it is time for me to be 28 going on 20 again. I have already purchased wood, and have a new design for what I believe will be an exceptionally unique and attractive instrument. So, as the New Year approaches, and the Holiday season settles down, I will be spending my extra time in the shop. I will not be repairing guitars, but I will rather be creating a new instrument. I hope to share this experience with all of my friends and family via this blog. I invite you to join us.
David C. Bolla
Grosse Pointe Music Academy Staff/Repair Technician