Joe Vasquez is an accomplished bassist and music educator who has recently joined the esteemed faculty at Grosse Pointe Music Academy. With his expertise on the upright bass, also known as the double bass, Joe brings a wealth of knowledge and experience to the academy's thriving musical community. Armed with a Master's degree in Jazz Studies from Michigan State University, Joe is ready to inspire and guide students of all levels and ages on their musical journeys.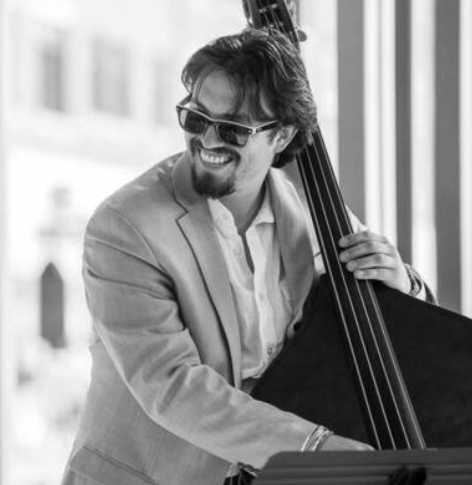 What sets Joe apart is his versatility and mastery of both the upright bass and the electric bass. From jazz to rock, funk to classical, Joe's talent shines through in various genres, making him a sought-after bassist in the local music scene. His unique blend of technical prowess and musicality ensures that his performances captivate audiences and leave a lasting impression.
BOOK NOW! Upright Bass Lessons – 30 Minutes
BOOK NOW! Upright Bass Lessons – 60 Minutes
Beyond his instrumental skills, Joe is well-versed in music theory, reading, composition, and improvisation. His comprehensive understanding of music allows him to tailor lessons to each student's individual interests and learning style, providing a personalized approach that inspires and motivates. Whether you're starting from scratch or looking to refine your skills, Joe is dedicated to helping you achieve your musical goals.
Joe's teaching philosophy revolves around creating a supportive and engaging learning environment. He understands that every student is unique, and he believes in nurturing their interests and strengths. With a patient and encouraging demeanor, Joe ensures that his students feel comfortable taking risks and exploring their musical potential. His ultimate goal is to instill a lifelong love for music and empower his students to express themselves through their instruments.
In addition to his expertise on the bass, Joe also has teaching experience on the drums, adding another dimension to his musical toolkit. This broad understanding of rhythm and percussion further enriches his ability to guide students in developing a strong sense of time and groove.
Joe Vasquez is thrilled to embark on this musical journey with the Grosse Pointe Music Academy community. His passion for music, combined with his dedication to teaching, promises to create a nurturing and inspiring environment for students to thrive. Whether you're a beginner or an advanced musician, Joe is eager to share his knowledge and guide you on your musical path.
If you're ready to explore the world of bass or enhance your skills on the upright bass or electric bass, Joe Vasquez is the teacher for you. Join him at Grosse Pointe Music Academy and unlock your musical potential. Together, let's create beautiful music that resonates with the heart and soul.