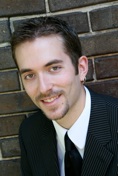 Before moving on to attain a Jazz studies degree from Wayne State University, Levi Henson taught himself to play rock and pop music on the guitar.  At 11 years old, he wanted to play like Eric Clapton on his Fender electric guitar.  Once he picked up the guitar, Levi never put it back down.  He is an easy-going yet incredibly passionate and very educated guitar player.  His main playing styles include but are not limited to: Jazz, Classical Guitar, Rock, Blues, Pop, Latin Guitar, and Country.  His main influences while learning guitar are Jim Hall, Wes Montgomery, Pat Martino, Andres Segovia, and John Petrucci.  As a teacher, Levi is astonishingly patient and incredibly detail oriented.  Regardless of your playing ability he will help you pave the way to improvement with a method arranged just for you.  Levi is currently teaching beginning players on electric guitar, acoustic guitar and bass guitar.  He is also helping other students prepare for theory examinations and college auditions on guitar.  Working on performance skills of guitar players is another one of Levi's strengths.  He teaches students how to be mentally and physically prepared and what to do with yourself when you're nervous.  Levi is a performer himself currently playing Guitar in the Rhythm Society Orchestra.  They are an authentic Big Band that plays shows all over the Metro Detroit Area.
In addition to teaching private lessons, Levi also teaches the Grosse Pointe Music Academy Guitar Ensemble.  It's rare that guitar players get a chance to play in school bands and orchestras on the guitar.  The few opportunities that are available are usually limited to one guitar player selected for the High School Jazz band.  The experience gained from playing in these ensembles at school are very hard to duplicate in private lessons.  The solution to this problem for guitar players is to become involved in a Guitar ensemble.  Guitar ensemble is focused on sight-reading and musical performance in a group of all guitar and bass players.  The Guitar Ensemble will teach crucial elements of performing written music and professional performance practices.  Students should have at least completed a level one method book before joining guitar ensemble class.
Levi is currently available for private lessons at our Grosse Pointe location.  Call today for more information or to set up lessons.
Grosse Pointe Music Academy
17012 Mack Ave.
Grosse Pointe Park, MI
48230
313.458.7723
info@grossepointemusicacademy.com
Canton Location:
5880 N. Canton Center Rd.
Ste. 425
Canton, MI
48187
734.418.0640
canton@grossepointemusicacademy.com