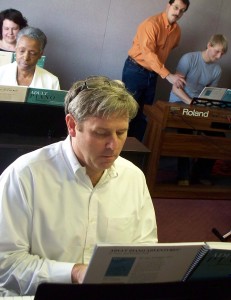 This fall semester, Grosse Pointe Music Academy will offer Group Piano instruction for students in different age groups.  Classes will be for ages 5-7, ages 8-12 and ages 13 and up.  Group piano lessons are a fun way for piano or keyboard students to interact in a "piano band."  The goals of these classes are virtually the same as private piano lessons, but with a slightly different format.  Fundamentals of learning reading, notes, chords, scales, styles and songs are learned individually.  Students also learn to play their part confidently in the ensemble of keyboard players.  Generally, group classes are accommodating to both beginning and intermediate keyboard players.  Advancing players should strongly consider private lessons to ensure that the material is suitable for them.  Overall, group piano lessons are a fun and interactive way to either get started or stay interested in piano.  Beginners and those with experience will each receive challenging music examples to promote their playing abilities.
Things you will learn in Piano Class:
1.  Note reading – Piano reads from both the Treble and Bass Clef.  Learning to read notes and rhythm is the basis for all piano playing.  Note reading gives you the power to read as much music as you want, as often as you want.
2.  Chords – Piano players can learn a few chords and play the accompaniment to many different songs very quickly.
3.  Scales – Nobody wants to admit it, but scale play is the most efficient way to adapt your fingers to an instrument.  Scales provide us with various musical tonalities which are essential to creating all of the song styles that you know.  With a positive attitude, scales are a fun way to become really good quickly.
4.  Improvisation – Some students are more inclined than others to naturally improvise on their instrument.  You will learn methods that will help you build an ability to improvise freely.
5.  Songs – Learning songs is the reward for practicing music.  Students will learn songs appropriate to their playing level.
6.  Playing as a group – The best part about a group class is that you can play in time with other piano/keyboard players. This enables the student to develop the ability to communicate with other musicians.
Schedule for Fall Piano Group Classes:
Tuition for all age groups is 69 per month*.
Mondays 7pm-8pm
Ages 13-Adult
Tuesdays 4:30-5:15
Ages 5-7
Wednesday 12pm-1pm
Ages 13 to Adult
Thursdays 4:30
Ages 8-12
Register for Group Lessons by Clicking Here
Grosse Pointe Music Academy offers private and Group Music Instruction to the Grosse Pointe Communities and all surrounding Metro Detroit Areas.
We are located at:
17012 Mack Ave.
Grosse Pointe Park, MI
48230
313.458.7723
* Lesson rate of 69 per month is an average of the total amount of lessons divided by the number of remaining months in the school year.  First payment and/or monthly rate may vary slightly.