Give Music Lesson Gift Cards to your family and friends this Holiday Season! Music Lessons are the gift of education that will last through the years.
Music Lesson Gift Cards Available for:
Guitar Lessons, Vocal Lessons, Piano Lessons, Drum Lessons, Ukulele Lessons, Violin Lessons, Cello Lessons, Bass Lessons, Clarinet Lessons, Saxophone Lessons and Trumpet Lessons.
Music Lesson Gift Cards are good for both in-person or virtual lessons. They don't expire and the gift recipient can schedule the lessons at their convenience. Gift cards are sold for a single lesson or as many as you would like. We offer 30-minute, 45-minute and 60-minute lessons.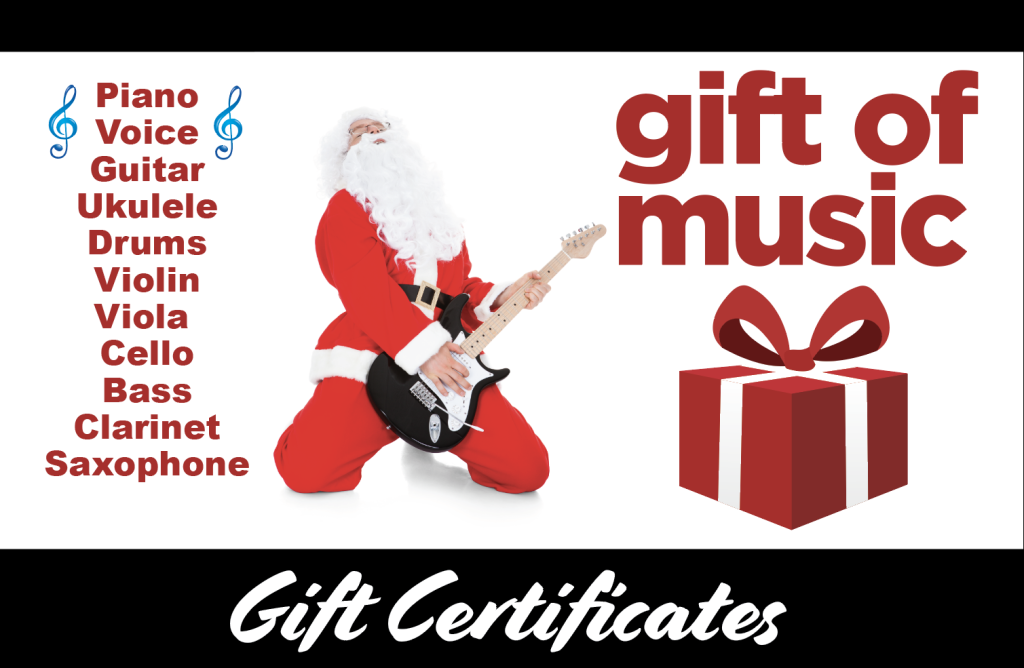 We offer lessons in Grosse Pointe Woods, Clinton Township, Canton Township, Brighton and Ann Arbor.
If you have questions prior to purchasing gift cards online, please feel free to give us a call or text us at 313.458.7723. Lessons for children and adult students. All lessons are private lessons and customized to the needs of the individual. We have instruments for general use during lessons but students should have access to an instrument at home for practice.
Learning to sing or play a musical instrument is a dream of many people. We've seen so many people come to lessons with their gift cards saying that they would have never taken the step to book lessons on their own. Give someone the joy of music this holiday season.
We sell physical gift cards to present as a gift but we also store all of our gift cards digitally in our system so they'll never get lost. Contact us today!