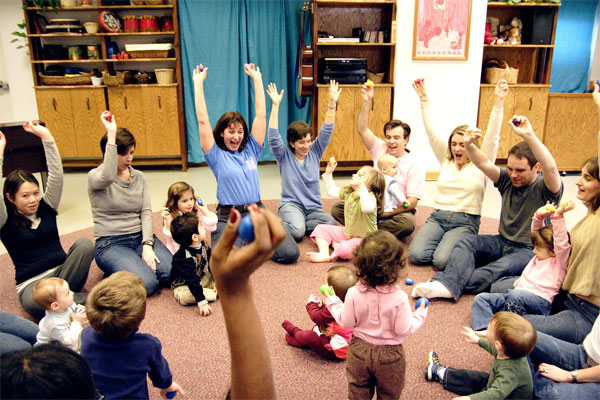 Music Together February 2014
We all LOVE Music!
It was so fun to see everyone again for the start of the new semester and to welcome new friends to the Hummingbirds Music Together community! We hope everyone is enjoying getting to know the Sticks collection!
So Many Musical Babies!
There are so many young babies in all of our classes this semester which adds a lot of fun for all of the children and parents as we watch how our young friends progress every week – moving from watching, to moving with music, and then starting to sing along. Research shows that babies begin to hear and respond to sound in the womb at about 19 weeks gestation, so when babies are born they are ready to connect and grow through music. This early music engagement helps your children's development and is another great way to reinforce the bond with your child. If you have not received the Babies in Mixed-age Classes Family Guide, make sure to ask your teacher for a copy to learn more about supporting and guiding young babies in their musical journey.
Upcoming Events
 TBD: Due to the Polar Vortex after New Year's we had to postpone our January 8 event at the Canton Public Library. We will host a fun filled morning of singing, shaking, and waving scarves in Music Together fashion and hope you can join us to fill the library with the joy of music!
Wednesday, February 12, 9:30 – 11:30 am: Grosse Pointe's St. Clare Cooperative Nursery School is hosting an open house for the 2014-2015 school year.  The 3 and 4 year old preschool program offers the full Music Together curriculum and Hummingbirds Music Together will lead a demo class for interested families from 10-10:45 am. St. Clare Co-Op Nursery School is located at 16231 Charlevoix in Grosse Pointe Park.  See www.stclarenurseryschool.com or call 313-647-5160 for more information.
Monday, February 17th – President's Day:  Classes will not run on Monday the 17th, President's Day. However, classes will run for the remainder of the week. Monday classes will have a make-up class on March 24th.
Saturday, March 1st, 4:00 – 5:15 p.m: Hummingbirds Music Together will host our annual "Teddy Bear Picnic" and Parent Education Event for all enrolled families. These events will occur BOTH in Canton and Grosse Pointe at our music class locations! A small craft and snack will be provided as well as lots of musical fun – bring your special teddy bear or stuffed friend! An RSVP link will be provided as space will be limited.
Momprenuers Featured!
As you may know, Hummingbirds Music Together is part of a supportive business organization called the Grosse Pointe Momprenuers. Founded by four mom-entreprenuers, our mission is to support each other in our businesses, in our community and of course in motherhood. Pointe Magazine featured our organization in the January-February issue now out. To check it out, please click here.
Musical Valentines
As you think of ideas for valentines this year, consider how you can add music. A simple way is to change the words of favorite tunes to make up your own songs about love. Also, if you send valentines to family and friends, consider finding a way to record your child – maybe through a video and/or audio message or a recordable card – singing a song about love to share. Not only will your child have fun writing their own song and recording it, but the recipients will surely feel the love when they hear a little voice singing just for them!
A simple way to help your family be more musical is to end every night with a lullaby. Remember that to your child your voice is perfect, so sing a favorite lullaby or make up your own to help give your little one a sweet send off for the night.
January Hummingbirds Music Together Post
Happy February to all of our beloved friends!
Sarah Boyd, Center Director, Miss Hazimah and Miss Emily, Music Together Teachers
Henry Bahrou, Grosse Pointe Music Academy School Director