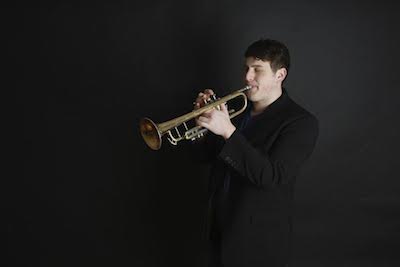 Trumpeter and Marion, Massachusetts native Aaron Janik has been
steeped in the discipline of music from the age of 10. His earliest
introduction to music was by way of revered New England trumpeter Jack
Martin.  Aaron also instructs on flugelhorn, trombone, tuba, and french horn.
Aaron furthered his studies at Oberlin College of Arts and Sciences as
well as the Conservatory of Music by way of the great Wendell Logan,
graduating in June 2013 with a Jazz Trumpet Performance Degree and a
Biology (Pre-Medical) Degree. From that time on, Aaron has performed
and studied with trumpet greats Marcus Belgrave and Sean Jones. He
has also been fortunate to study with Gary Bartz, Robin Eubanks and
Billy Hart to name a few.
Janik's skills as a musician have afforded him opportunities to travel
to various places across the world, be part of a mid-west educational
tour with the "Knomadik Project" (as part of an Inner city music
Outreach program founded by De'Sean Jones), and even make a few TV
appearances on BET's hit reality show "The Sheards" which airs its
second season in October of 2014.
Aaron now resides in Detroit, Michigan where he regularly performs and
records with artists across the country, from chart-topping artists
like Kierra Sheard or jazz legend Robin Eubanks to touring with the
likes of Motown Artist J. Drew Sheard and PJ Morton of Maroon 5. In
addition to these tremendous opportunities Aaron Janik continues to
hone his skills as an artist and arranger via Knomadik Horns (a
Detroit-based Horn Section) along with recording his original music as
a recording artist on the Knomadik Record Label. His debut release is
set for 2015.