NOVEMBER 2013
Private Recording Sessions
Want to record a demo recording to promote or just for keepsake?
Get that professional sound that you can keep forever. You'll need it to book that
first gig too!
Set up a time with professional recording engineer Chris Emmerson today!
You'll receive a professionally mastered CD and MP3 recording of your song!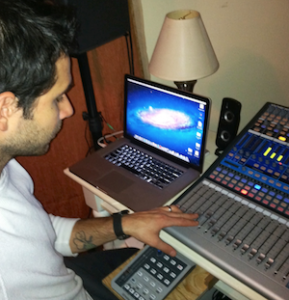 Available dates and times:
November 9th Grosse Pointe Woods – 2pm, 3pm, 4pm, 5pm
November 16th Canton – 2pm, 3pm, 4pm, 5pm
November 23rd Grosse Pointe Woods – 2pm, 3pm, 4pm, 5pm
Times Slots are limited and are available on a first come first serve basis. Call
us today 313.458.7723 in Grosse Pointe or 734.418.0640 in Canton to book your time
and be sure to take advantage of the special coupon below!
www.grossepointemusicacademy.com
Help us grow and get $50 off your next month's tuition!
We want your referrals, and we want to reward you for it! Tell your friends about
Grosse Pointe Music Academy and we will reward you if they enroll in private lessons.
If you refer someone who will be coming in for lessons just call or email us with
that person's name to be sure you get credit.
Grosse Pointe: info@grossepointemusicacademy.com
Canton: canton@grossepointemusicacademy.com
Winter Camp 2013!
Friday Dec 27th – Tuesday Dec 31st.
9am-2pm each day.
Need something fun and educational to do over winter break?
Grosse Pointe Music Academy will offer a winter camp.
Music Camps focus on playing music as a group. Students benefit greatly by gaining
the confidence needed to play with other musicians.
Sign up by November 25th and get the early bird rate of 245. That's a savings of $50!
Composition, Music Theory, and Production Lessons
Our new composition, theory, and production classes are private classes that are
tailored to individual needs. Students of all ages and playing abilities can learn
these skills with the right tools. Write and record songs for fun, professionally,
or prepare for college exams. Enrolling students now!
Theory and Composition:
Catered to the students' needs, but may include:
* Music theory – scales, keys, chords, and history.
* Analysis – looking at pieces of music and understanding how they work.
* Orchestration – how to write for various instruments, instrument capabilities,
and which instruments make up different ensembles.
* Musical Arrangement – how to change a piece of music from one type of instrumentation
to another.
* How to make musical visions a reality.
Music Technology and Production:
* Using the computer to make electronic or electro-acoustic music in a variety of
genres.
* How to use the computer as a creative tool for song writing (using loops, multi-tracking).
* Making demos using a student's existing equipment (iPhone, iPad, 4 track, computer,
etc; this includes help choosing the gear to get started)
* MIDI and recording techniques to get desirable results quickly.
* Understanding mixing, mastering, and tracking and the basics of how to get started
doing them. * File management and software introduction.
* Possible software to be explained: Logic, Garageband, Pro Tools, Reason, Ableton
Live, Sibelius, Finale, Notion, Maschine, and others upon request.
Music Theory/History/Ear-training preparation for college entrance auditions and
interviews: * Crash course in music theory, history, and ear-training: the essentials
that one must display for a college audition.
* Portfolio review for composition and music technology students to ensure they
provide the best examples of their work.
Contact Us:
Grosse Pointe Music Academy
19443 Mack Ave GPW 48236
313-458-7723
GP Music Academy Canton
5880 N Canton Center Suite 425 Canton 48187
734-418-0640
HOME PAGE
Important Dates:
Thanksgiving Break
November 26th-30
Christmas Break
December 23 – January 5th
Winter Camp
December 27th-31st
Music Together Winter Semester
Starts January 13th
Grosse Pointe Music Academy | 19443 Mack Ave. | Grosse Pointe Woods | MI | 48236
Grosse Pointe Music Academy | 5880 N. Canton Center Rd. Ste. 425 | Canton | MI | 48187