Online Guitar Lessons
The future is here an whether you're looking to save on gas, not go out in the cold, or stay safe from nasty viruses, then online guitar lessons are the perfect solution! Grosse Pointe Music Academy offers private online guitar lessons to students of all ages using Zoom Online Meeting. Zoom has a free option for users looking to meet online with a laptop, phone, or tablet.
If you're using a phone or tablet, search for the app called "Zoom Cloud Meetings"
Book an Online guitar lesson now!
If you are using a laptop then visit Zoom.us and download the software.
If you're looking for another available time or have more questions, please call us at 313.458.7723.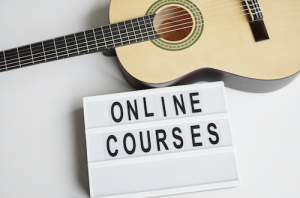 Grosse Pointe Music Academy also offers:
Online Piano Lessons
Online Drum Lessons
Online Voice Lessons
Online Violin Lessons
Online Saxophone Lessons
Online Ukulele Lessons
Online Cello Lessons