GP Music Academy in Canton is offering two weeks of Summer Music Camp in 2013, July 29th-August 2nd and August 5th-9th. We are less than five miles from the Plymouth Canton Schools. Our music camps are perfect for beginners and intermediate players aged 9-17 years on guitar, bass guitar, piano, and drums. Singers are welcome to join, too!
Check out our promo video and please share it with your friends!
What do the music camp participants do?
Music Camp participants will attend camp from 10am-3pm Monday-Friday during their chosen week of camp. Students may take either week or both weeks. We have had many students sign up for multiple weeks because each week of camp is unique in its content. Camp teachers will give group classes on instrumental topics, theory, ear training, songwriting, and performance skills. There will also be group listening sessions for music appreciation and history. With multiple teachers on staff, they will section students into performance groups and start practicing as a band. Students will be given music parts appropriate to their level.  During the week, students will learn new things and continue to practice their performance pieces for the show on the last day.  We also break each day for lunch and mix in some exciting outdoor games!
Sample Day Schedule:
10am: Group theory class
10:30: Individual lessons and practice time
11am: Band Rehearsal
12pm: Lunch and Outdoor Games
12:45pm: Band Rehearsal
2:00pm: Group songwriting class
2:30pm: Individual instrument practice and group recital
Ten Reasons to send your child to music camp:
1.  Watch them perform in a band on the last day of camp!
2.  25 hours of music lessons in one week!  Practice is the name of the game in music.  Long music sessions help deepen the student's understanding.
3.  Educated and experienced instructors who have fun and really care about helping students achieve their goals!
4.  We are located less than five miles from all Plymouth Canton Schools.
5.  Playing in groups with peers helps students make huge strides in their playing ability.
6.  Our air conditioned facilities will give you a nice break from the sun!
7.  Camps have a maximum of 16 students with a student/teacher ratio of 4 to 1!
8.  Beginner students are welcome, and our teachers are experts at working with all levels.
9.  We are a music camp, but we break each day for some fun outdoor games to make sure everyone gets their exercise!
10.  Keep them away from the television all week!
Easy Online Enrollment Form: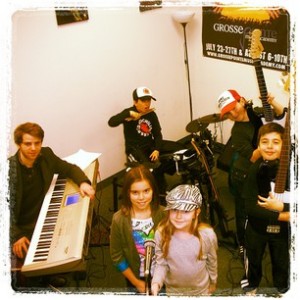 What Parents are saying:
Our oldest son loves going to Summer Music Camp. He has a great time and learn many new things about his guitar and music. He is looking forward to this years camp.
Google user:
My kids have been taking music lessons at Grosse Pointe Music Academy for years. My sixteen-year-old daughter is thriving as a piano player and singer and is now moving on to guitar. My ten-year-old son is taking both piano and guitar–and he'll soon become involved in the rock band program. The teachers are excellent and the staff is second to none when it comes to professionalism and experience. This is an absolute gem in the Grosse Pointe community of which more people should take advantage. They are equipped to handle lessons for just about any instrument and more than capable of teaching every age group. I couldn't be more happy with the service this thriving business provides by enriching our young people with the gift of music.
Community Links: