by Roger Belgrave
The Darcys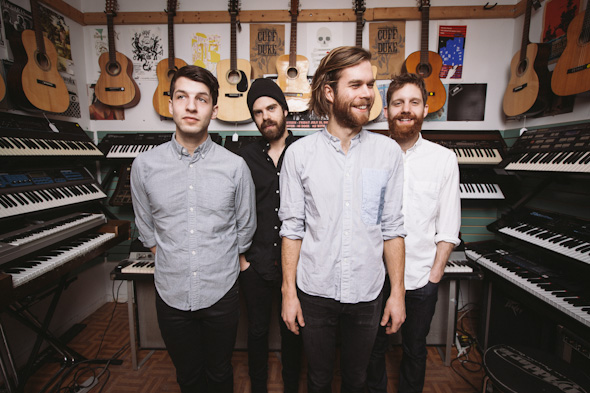 BRAMPTON— Brampton Centennial Secondary School Principal Terry Whitmell is standing at the foot of the school's auditorium stage tapping her feet to the live band she's invited to perform for students during lunch period.
The slim-fit foursome behind the amplified electric guitars, keyboard, synthesizer and drums are Toronto art rock band The Darcys.
Jason Couse, Wes Marskell, Michael le Riche and Dave Hurlow are putting on a series of free school performances and workshops in Ontario and other parts of the country.
The band launched the Play In School tour last year as part of a campaign to raise awareness and support for public school music programs constantly under threat from financial cutbacks.
Marskell said idea came together reading the Toronto District School Board was eliminating music programs at some schools.
He wanted to "make some noise" about the importance of music curriculum and its value as a tool to engage students in all aspects of their education.
"We just wanted to try and stir it up a bit," Marskell says.
The 27-year-old started taking music in Grade 5. He recalls, even when he wasn't doing well in some other high school courses, music class often got him out of bed and in school.
"It propelled me forward," Marskell explains students can find intangibles like confidence, self-expression and encouragement in a music class that can bolster their achievement in other areas of their education and life.
Whitmell, a former music teacher, knows how vital it is to strike a chord with students.
By high school, getting some kids to show up can be the most challenging part of the job for a teacher, she admits.
"Kids need to have one class that they're excited about coming to school for and for some kids it's music," says Whitmell.
Teachers are powerless to help students if the kids are at home in bed playing video games, remarks Whitmell.
"If you're there then the teachers can help you," she points out.
Experiencing success in one course can be encouragement to find success in another. With cross-curricular teaching, music can be used to teach writing, math or another subject.
Many parents and even students are only focused on achievement in reading, writing, math and science.
"It makes life so impoverished if that's your only focus," says Whitmell.
The arts and their place in offering a well-rounded education can regularly get pushed to the periphery, suggests Whitmell, who wants to encourage students to be creative in many ways.
She sees music as a crucial part of education— as is drama and visual arts.
These courses can teach students a lot about people and life, she insists.
There are so many ways of "cross-pollenating" any career with music education, according to Marskell and his bandmates, who have handled everything from songwriting to marketing as independent artists.
"Even if you become a lawyer or a doctor, there is still a lot of creativity and value in music," Marskell tells students.
Shared by Grosse Pointe Music Academy
Music Lessons for students of all ages