Where can I get piano lessons?  Simple!  Grosse Pointe Music Academy in Grosse Pointe Woods and Canton offers lessons 6 days a week for students of all ages and levels.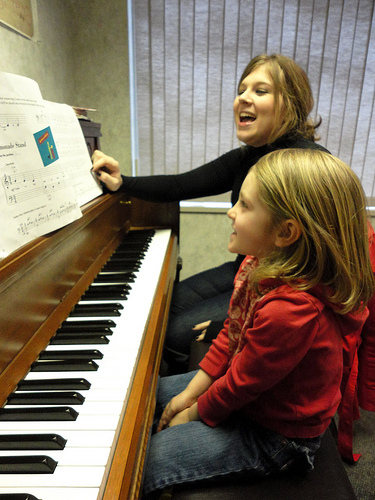 10 important practice tips for piano players and all instrumentalists:
1.  Set your practice time effectively– Playing most instruments requires the majority of your body to be still.  Set your practice time for when your are comfortable and ready to relax.  Practicing music after exercise and a meal can be extremely effective.
2.  Practice a little longer than you feel like practicing – There comes a point in doing anything where our minds wander and we feel like moving on to something else.  Make yourself go through the song or practice exercise at least one more time before stopping.
3.  Slow Down– Speed comes from practicing things correctly.  Slow down and play properly first and then build up your speed gradually.  Many will become frustrated and quit when they try to play things at speeds that they are not yet capable of.
4.  Listen– Be sure to listen to a recording of the music that you want to play each time before you practice.  Simply listen to the music without doing anything else.  Music is an aural art form and we learn it best with our ears.
5.  Rest- If you have a hard work ethic and practice diligently, make sure to rest properly and take breaks to stretch.  Playing for too long without breaks can be damaging to our bodies.
6.  Have multiple practice options– If you don't have the luxury of a private practice studio then you are going to need some options.  Practicing everyday is very important to musicianship so find out who has space and who is willing to let you practice there.  It's important that we have options in our own community and communities that you may travel to.  Instruments and can be practiced quietly and are easily transportable have a much easier time with this than those that are the opposite.
7.  Try something new– I'm all for mastering a piece of music but if you find yourself repeatedly losing focus it may be time to try something new.  Don't give up but just try a new piece so that your ears can get a break from the other music that you've been working on.
8.  Play with a timing device- Metronomes are great and so are beat machines.  It's critical that we learn to play to the beat and are completely aware of the tempo.
9.  Perform regularly– Even if it's just for 1 or 2 other people who live in your home, performing is a key element to your progress.  If you've mastered even a simple song then it's time to show a few people what you can do.
10.  Know what you sound like– Record the songs and practices that you play and listen to them afterwards.  We can be our own best critic but it's best to do so while not playing.