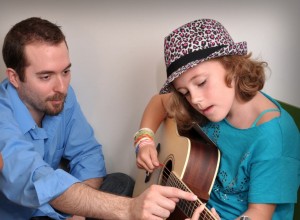 I received an email today from a High School Music teacher who recently launched a new website called www.writtenforguitar.com.  George Wanat has been teaching in a New York City public High School for the last 10 years.  His new website and musical arrangements available on the site are his response to the "unsatisfying guitar music I found available from the big publishing companies" George states.  Being a guitar player and an avid sheet music buyer, I agree whole heartedly.  It's very hard to find a lot of songs arranged for solo guitar, guitar duets, and larger guitar ensembles.  His email caught my my instantly because on it he offers a free pdf version of "The Godfather Suite" for guitar duet.  I have always loved this piece of music and now I can't wait to play it with another guitar player!  If you go to George's website he also offers three other pieces for free download.  Currently there is a free arrangement of "Yesterday" by the Beatles plus a couple  popular video game themes, Super Mario Brothers and Mortal Kombat.  Of course there is plenty of other music available for purchase as well.  If you are a guitar enthusiast at any level then you will be sure to enjoy this Free Sheet Music.  Be sure to check it out!
Grosse Pointe Music Academy offers Band/Ensemble Classes at both their Canton and Grosse Pointe Woods locations.  We match students of similar age, skill level, and musical tastes and put them together to work on performance skills and musical repertoire.  This class is intended for students with at least 6 months of private lesson training.  If you are interested in joining a class please fill out our simple online form.  There is no payment information to be entered on this form.  The form simply helps us gather information to offer you a potential time slot in a current or newly forming group.
Our newer Canton Music Academy is located at 5880 N. Canton Center Rd. Ste. 425 in Canton Michigan.  We opened up in September of 2011 and are now in our second year of operation.  I would like to send out a very big Thank you to all of the families who have helped us get our new location up and running in the Canton area.  We are very grateful to all of our students and families and look forward to continuing to serve the community for many years to come.