Italy is a land of romance, known for fine food and wine, great painters, classical composers, and opera. It's also the homeland of Peppino D'Agostino, an eclectic acoustic guitarist who moved to the United States in the early 1980s. D'Agostino now lives in California, but he continues to channel the spirit of his native land in his music, while blending influences from Brazil, American pop and folk music, classical music, minimalist composers like Terry Riley, and even a touch of Jerry Reed. D'Agostino's approach to guitar incorporates the entire range of modern fingerstyle techniques—from exotic alternate tunings to percussion and two-handed tapping—creating multidimensional layers of sound that often seem impossible to execute on one guitar. But it's his lyrical, romantic melodies, tinged with slightly exotic harmonies and delivered with a combination of emotion and fiery energy, that catch listeners' ears and draw them in.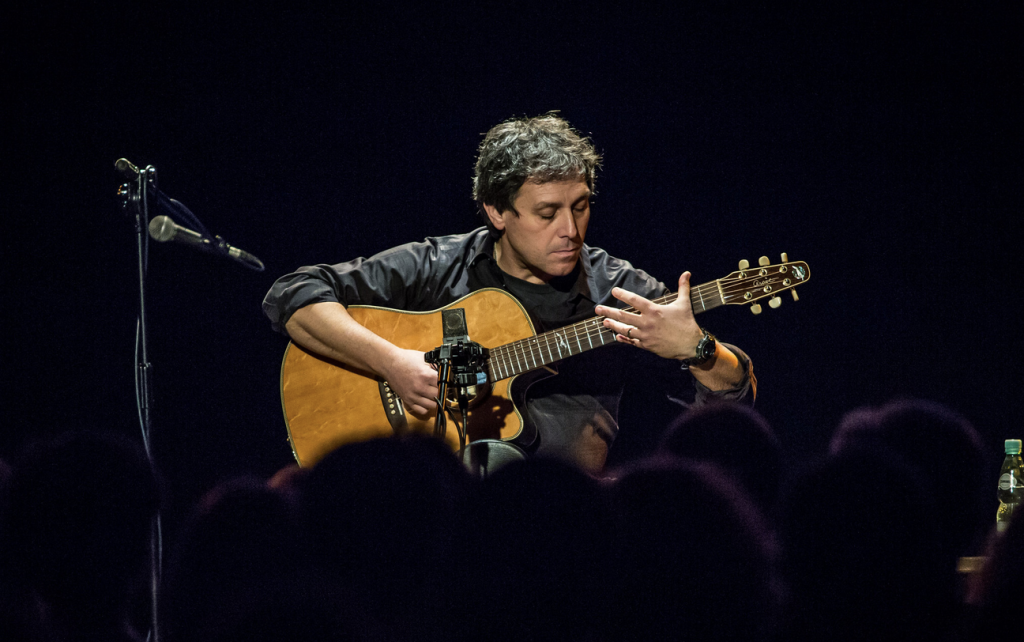 D'Agostino has recorded a dozen albums since his US debut, Acoustic Spirit, including Every Step of the Way on Steve Vai's Favored Nations label and his latest self-released album, Nine White Kites. As a performer, D'Agostino is virtually a one-man orchestra, but his latest release marks a return to a solo guitar format after a series of collaborations (see "Fingerstyle Collaboration" on page 44 of July 2011 issue of Acoustic Guitar). The new album features 11 new tunes that showcase D'Agostino's diverse musical taste and masterful compositional skills, as well as his prodigious technique on steel-, nylon-, and 12-string guitars. Nine White Kites includes two bonus tracks that feature a marvelous vocal performance by his daughter, Aleza, and a stunning duet with Flavio Sala on Rossini's "La Gazza Ladra."
These days, D'Agostino spends a lot of time traveling the globe, performing frequently in the USA as well as Europe. He recently covered much of the States as part of the Guitar Masters Tour with Eric Johnson and Andy McKee. We caught up with D'Agostino between dates to talk about his approach to composing and how he uses alternate tunings and percussive techniques.
You've been touring with Andy McKee and Eric Johnson on the Guitar Masters Tour. What's that like?
D'AGOSTINO I was asked to join this tour six or seven months ago, and I was really pleased that they asked me. I knew about Andy McKee's work, and I like what he does. Eric Johnson is a guitarist that I have seen live, because I opened for some of his shows. I was completely blown away by his expertise on the electric guitar, but I didn't know Eric as an acoustic guitar player. He's excellent on acoustic guitar as well. What I like about him is that his knowledge of music is very deep—he's been playing piano since he was five. It's been beyond my expectations.

Your new album features all new original compositions. How do you approach composing for solo guitar?
D'AGOSTINO It varies from piece to piece. Some of the tunes on the new CD came out all of a sudden. Like the title track, "Nine White Kites" [transcribed on page 47 of July 2011 issue of Acoustic Guitar]. I wrote that piece in one session, in probably six hours. By the next day, the piece was ready. But there's also a piece that I play on 12-string, and the original idea is 36 years old; after 36 years, I went back and finished that piece. Those are the two extremes, and there's everything in between, including using a computer as a compositional tool.

How did you use the computer?
D'AGOSTINO The piece "Barefoot in Rio" was written about ten years ago as a samba. I recorded that on a demo tape with a full band. When it was time to record this new CD, I wanted to transform that into a waltz, and make it a solo guitar piece. I used Sibelius [notation software] and wrote down the piece in the key of G. Then I wanted to make some key changes, and I used the computer to modulate and take the key up or down. So I didn't have to think—the computer was thinking for me—but filtered by my own taste.

So then you had to work out the fingerings so you could play it?
D'AGOSTINO Right, but that's also something the computer can help with.

Some of the tunes on the album, like "Street Pulse," are very rhythmic. How did you develop that piece?
D'AGOSTINO There's a tendency today in acoustic music to use a lot of percussive effects and tapping techniques. For that tune, I asked myself, "What can I do that would be interesting, and a little bit different?" That was an approach that was more cerebral, rather than emotional. When you hear players [who use percussion], you hear mostly a steady pulse that kind of glues the piece. So I thought, "I don't want something that's constant, I want something that's in between the notes that I'm playing."

It starts with the bass line, which is also a melody [Example 1]. You have to play that with your left hand, which is fairly simple. I could do a steady rhythm [Example 2], or do something in between the notes [Example 3]. Then I thought of Gyan Riley, a guy that I really respect—he improvises by using his index finger [alternate picking] and I thought about strumming the rhythm, also hitting the top of the guitar. Again, I'm trying to create a percussive sound in between the notes of the melody [Example 4]. If you analyze the striking of the strings, it's just downstrokes and upstrokes, but it's the way the notes are positioned that is interesting.
by Doug Young
Acoustic Guitar Magazine