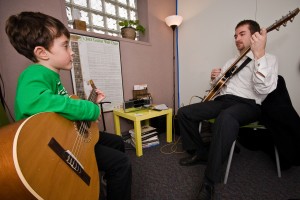 I am feeling generous today so I'm going to give you a free guitar lesson by writing this blog on how to play the guitar.  You will benefit from this whether you are trying to learn Acoustic Guitar, Electric Guitar, or Classical Guitar.  While each of these types of guitars have a different function in music, each has the same tuning therefore making them all ok to learn basic guitar playing skills on.
Being a guitar player doesn't mean you have to be the best.  Technically speaking, there can only be one BEST player so I think it's better to not worry about that and just focus on things that are within our control like how much you practice guitar.  Being the best is an idealistic fantasy that very few will come close to reaching.  I want all guitar students to be the best they can be, but it shouldn't be your focus or even cross your mind.  The guitar lessons that I'm going to give here will be more of a primer lesson that will help undo preconceptions and mindless tendencies about guitar and guitar instruction.
Lesson 1:Choose a Guitar
Find a guitar that fits your budget and make sure it's comfortable to hold.  If the guitar is new be certain to ask the store to setup and calibrate your new instrument.  If it is used then seek a professional guitar technician to setup and calibrate the guitar for you.  Don't fall into the trap of just trying to find a beautiful LOOKING guitar.  Let's instead focus on making the guitar SOUND beautiful.  You can reward yourself with a new guitar after learning to play at a certain level.