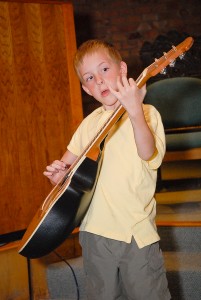 If you're a beginning guitar player or a guitarist with experience, you will no doubt have fun playing the different inversions of chords on just 3 strings of the guitar.  It is very common for guitar teachers to teach the chords using 6, 5, or 4 strings during beginner guitar lessons.  This is a good practice, but it's very uncommon for most guitar players to learn the chords on three strings only.  So why do I keep talking about 3 strings? And what is an inversion?  The basic chords that you will learn on acoustic, electric, or classical using more than 3 strings actually only contain 3 different notes.  Major and Minor chords each have three notes only.  You can voice a chord using as many of each note as you like, but still there are only 3 separate notes.  Therefore it is essential to learn each chord in it's sound and shape, using only one of each note, so that you can master the neck of the guitar.  Chord inversions are simply a reordering of the notes of each chord.  The C Major Chord contains the notes C, E, and G.  E, G, and C is said to be an inversion of the C chord.  G, C, and E would be another example.  Playing guitar chords on just 3 strings will help beginning guitar players to play and see the guitar in a more simplistic way.  Intermediate guitar players will find the variety of chords offer useful sounds that may have been previously undiscovered.
Playing on 3 adjacent guitar strings:
The standard tuning for acoustic guitar, electric guitar, and classical guitar is E, A, D, G, B, E.  The musical distance between each set of adjacent strings is the same for all strings except G to B.  This distance is off from the other strings intentionally to create certain ergonomics for chords and scales.  If you are playing on 3 adjacent stings, there will be 4 sets of 3 string patterns on the guitar.  The 4 sets are: EAD, ADG, DGB, and GBE.  Each set of 3 will offer unique positions for each chord.  The first two patterns will have chords in different positions but they will yield the same guitar chord shapes because the notes are spread symmetrically in each pattern.  The DGB and GBE pattern will have both unique positions and shapes of chords to each other and the other two 3 string patterns.
Okay, so it's possible that you are really confused about my description of playing on 3 adjacent strings.  I realize that it may be difficult to learn guitar from reading a blog, but I wrote it so that you can find Grosse Pointe Music Academy in your search engine more easily!  Grosse Pointe Music Academy in Grosse Pointe Park and Canton Township, Michigan has University Trained Guitar Instructors.  We are home to guitar players of all ages and levels learning Acoustic Guitar, Electric Guitar, Bass Guitar, and Classical Guitar.  We offer rock band group classes and a guitar ensemble group.  We can customize group instruction for different ages or work with multiple age groups in one class, such as  parents and children taking lessons together.

Grosse Pointe Music Academy also offers the following programs:
Piano Lessons
Drum Lessons
Bass Guitar Lessons
Violin Lessons
Viola Lessons
Clarinet Lessons
Flute Lessons
Saxophone Lessons
Ukulele Lessons
Music Together (early childhood music program) Ages Birth-5years
Locations:
17012 Mack Ave.
Grosse Pointe Park, MI
48230
313.458.7723
info@grossepointemusicacademy.com
5880 N. Canton Center Rd. Suite 425
Canton, MI
48187
313.418.0640
You've always wanted to play.
Start Today!
canton@grossepointemusicacademy.com